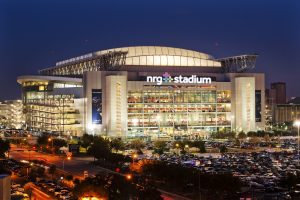 Super Bowl LI is less than a week away, and with the big game taking place in Houston this year, the journey is just as important as the destination. Trust us when we say that there is no better way to get to the Super Bowl than flying on your own aircraft – it's like a luxury tailgate in the sky.
Thinking about flying charter? You're not alone.
The hustle and bustle of the big game can make it easy to forget the Super Bowl is one of the largest private jet events of the year. Last year, CNBC reported that more than 1,000 private aircrafts were chartered for Super Bowl 50.  With the air charter industry continuing to grow, there's no doubt the number will be even higher for this year's game! Don't get stuck on an expensive commercial flight crowded with people; make this year the year that you arrive in style.
The VIP treatment
No matter the results of the game, you're guaranteed to be a winner if you charter with CSI. Move your tailgate from the stadium parking lot to the sky and experience the luxury of your own aircraft with your friends.  Don't worry about being stuck at baggage claim with thousands of other fans – head straight from the plane into the car and be on your way.
Come and go as you please
Flying charter gives you the flexibility to arrive in Houston when and where it's best for you. Don't be restricted by the schedule of commercial flights that land in the busiest airports!  CSI will fly to any of these airports in Houston:
George Bush Intercontinental Airport (IAH) – the largest airport in Houston, 28 miles from NRG Stadium.
William P. Hobby Airport (HOU) – a smaller international airport, only 11 miles from NRG Stadium.
West Houston Airport (IWS) – 27 miles from NRG Stadium, this is a great alternative to the large international airports.
Ellington Airport (EFD) – A no-nonsense airport located 19 miles from NRG Stadium.
CSI is ready to make sure your trip to the Super Bowl the best ever.  Make this a game to remember before you even land in Houston – fly charter to Super Bowl LI!