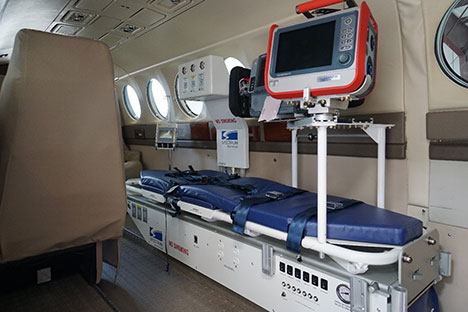 What is an Air Ambulance? An air ambulance is an aircraft outfitted to transport medical patients who cannot be transported long distances by ground transportation or on a commercial airline. Both helicopters and fixed-wing aircraft are used as air ambulances. Air ambulance helicopters are typically used for short-distance, emergency transportations, while fixed-wing air ambulances are used for stable, non-emergency medical transports.
CSI Aviation's Air Ambulances:
CSI Aviation operates a fleet of King Airs that have been converted into mobile ICUs. We use King Airs because of their enduring safety record, comfort, speed, and reliability. When medically configured, each plane includes a stretcher, ventilator, ECG and monitoring devices, CPR equipment, and medication.
Each medical flight includes a critical care nurse, paramedic and two pilots. CSI Aviation is NAAMTA certified and can be off the ground within 30 minutes of a call.