CSI Aviation has the equipment, medication, and medical training and capabilities to transport nearly all types of high-risk obstetric patients including but not limited to: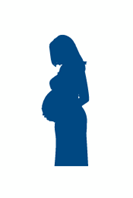 Patients with diabetes
Patients with preeclampsia or hypertension in pregnancy
Those requiring tocolytics
HIV-positive patients
Patients with high blood pressure
Young mothers
Mothers of advanced maternal age
Mothers with multiple births (twins, triplets, or more)
Mothers deemed high risk due to poor or no prenatal care
Patients in active labor on a case-by-case basis

It is both ours and the hospital's goal to never transport someone suspected of imminent delivery for theirs and the baby's safety.
All CSI Medical Personnel is NRP Certified. This allows our nurses and paramedics to operate outside NICU/OB delivery units. Our aircraft are equipped to accommodate a mobile ICU—allowing us to operate effectively for most all high-risk OB patients.