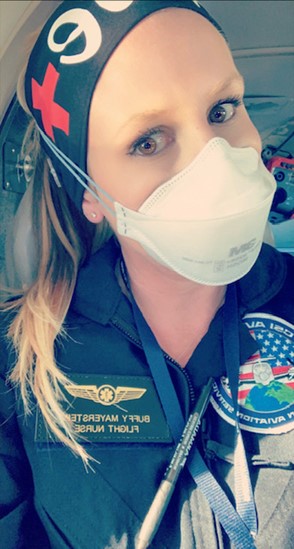 We love our medical staff! To celebrate our flight nurses and medics and all the amazing work they do; we're sitting them down for a question-and-answer session. For this week's medic Q&A, meet Buffy Mayerstein!
CSI Aviation: Why did you become a flight nurse, and how is it different from working on the ground in a hospital?
Buffy Mayerstein: I worked in the ER and ICU during the height of the surge in New Mexico of the pandemic. Never has it been more apparent that critical care nurses are such a sparse and valuable resource. With flight nursing, I would be able to grow in my scope of practice and learn from the most elite in the industry. The biggest difference in working in the air is you don't have an entire team treating the patient. You and your partner function as provider, nurse, medic and respiratory therapist in the air. You are the team.
CSI: What have you gained from working at CSI?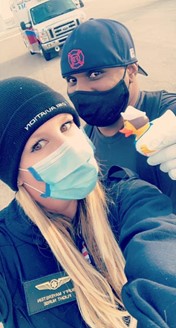 BM: I get the opportunity to learn and grow in my practice every day. Medicine is a constantly changing, evolving and innovative field. Our VP Julia Azua has worked hard to bring in the best and brightest to challenge and grow us. I have already gained so much knowledge and know I will only continue to learn/advance every day.
CSI: What do you find most rewarding and/or most challenging in your role as a flight nurse?
BM: The most rewarding thing about flight nursing so far is the ability to touch so many people all around the country. We have so many interactions with EMS crews, Fire Departments, hospital staff, police officers, airport staff and even other flight crews…all before we ever treat the patient. The events of the last year have reminded me how precious life is. I don't ever want to miss the opportunity to be the reason someone smiled that day. I try my hardest to be the salt and the light.
CSI: What's your favorite medical flight story (or, just your favorite career story!)?
BM: I don't have one favorite flight story, but there is something I do on every mission! In Albuquerque, there is an EMS game we play with rubber duckies. Some time ago, CSI got in on the fun with duckies of our own! I have gotten my partner to agree to duckie shenanigans all over the country! We've been teaching other EMS crews and hospital staff how to play and getting them in on the fun too!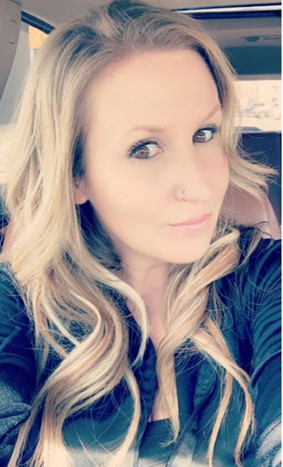 CSI: What do you wish people knew about your job?
BM: I wish people knew the incredible amount of work and training we do. There is always a certification, class, new piece of equipment, new protocols and innovations we must learn and adapt to quickly. Before I became a flight nurse, I never appreciated the amount of knowledge required to care for these patients.
CSI: Do you have any fun facts you want to share?
BM: There's not a bathroom on the planes! Never miss an opportunity go potty!
The pilots know where the best FBOs are, who has the best snacks and where the best places to get food quickly are!
My feet don't touch the floor of the plane in my seat! Haha!
Propofol doesn't work well at altitude!