The air entering the lungs at a higher altitude, while containing the same proportion of oxygen as at sea level, is less dense due to the decrease in air pressure. As a result, the brain and body do not function as well. This effect, known as hypoxia, typically becomes noticeable at 10,000 feet.
An oxygen system can combat the decrease in air pressure and increase the proportion of oxygen entering the lungs. Pressurized cabins in aircraft act as such systems.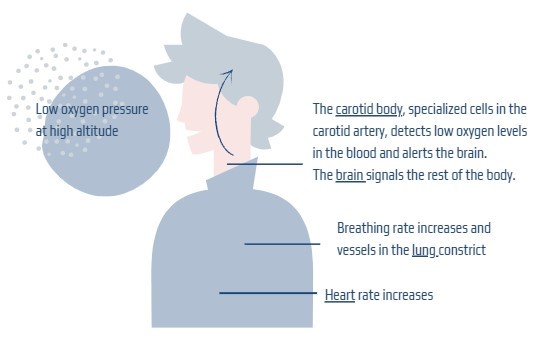 [Effects of Hypoxia]
People who are smokers, unfit, or battling illness are more susceptible to hypoxia than healthy people. They will experience hypoxia at much lower altitudes. For example, smoking and other illnesses can reduce the pressure of oxygen in the lungs at sea level to the same effect of breathing at an altitude 5,000 feet higher. What does this mean for your patient?
– A helicopter flying at 8,000 feet with an at-risk patient is exposing them to conditions at 13,000 feet, increasing their risk of hypoxia.
– Most helicopters do not have a pressurized air cabin.
– Patients who are physiologically compromised in any way need to be in a pressurized environment, such as those found in fixed-wing air ambulances.
Conditions that increase the risk of hypoxia include trauma, respiratory diseases, unstable angina, multiple organ failure, cancer, stroke, congestive heart failure, heart attack, hemorrhagic stroke, peripheral arterial disease.
More oxygen at less pressure is the same as less oxygen at greater pressure. Those with physiological conditions affecting their oxygen intake levels are at a higher risk of suffering from hypoxia if exposed to low-pressure environments.
Air transport patients at risk of hypoxia require a pressurized air cabin, regardless of the distance they are traveling.
All of CSI's fixed-wing aircraft are fitted with top-of-the-line equipment to accommodate the medical needs of potentially hypoxic patients, as well as a highly trained critical care nurse, paramedic, and two pilots on every flight.