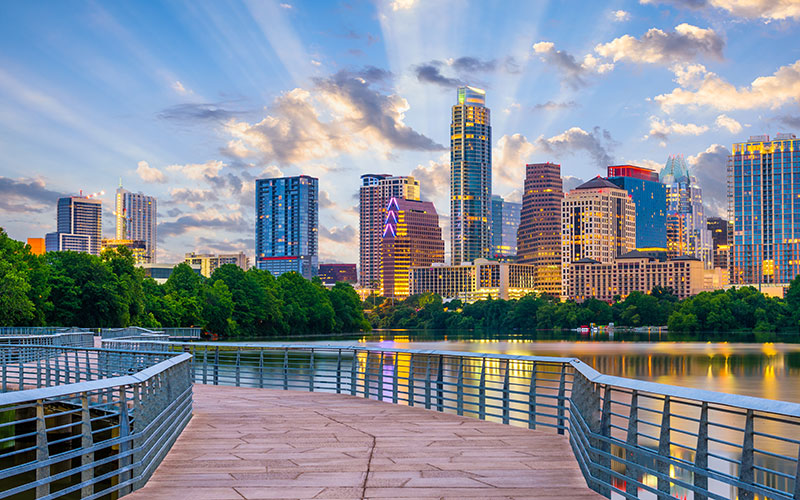 Popular for its abundance of live music, nightlife, food trucks, and more, Austin, Texas has grown into a sought-after location for bachelor and bachelorette parties, concertgoers, and vacationers. The city has also seen rapid growth over the past decades. Many big businesses, particularly in the tech industry, have opened offices in Austin, drawing employees from around the world to the capital of the Lone Star state.
While many commercial airlines make stops at Austin-Bergstrom International Airport (AUS), many smaller regional airports also support the area. When you choose to fly private, using whichever airport is most convenient for you puts you more in control of your trip. Skip the stress of a busy airport and land closer to where you want to be in Austin city limits.
Booking an air charter flight to Austin lets you oversee all the logistics of your flight. Flying private:
Allows you to fly on your own schedule. You choose when you want to leave as well as where you want to go.
Provides 24/7 customer service. When you book a private flight, the entire experience is customized to your needs and travel preferences.
Offers both security and privacy. Your health and safety are always top priority. Plus, your belongings never need to leave your sight (unless you want them in the cargo hold!)

Private Charter Flight with CSI Aviation to Austin, Texas
CSI Aviation can arrange for your private air travel on any aircraft you desire, from any location across the globe through our aviation management division. We offer all the benefits of flying private with a base in Killeen, Texas—less than an hour from the Austin area.
Get the most out of your visit to the live music capital in Austin. Enjoy your trip without dealing with the stress of commercial flying. Choose to fly with CSI Aviation to make the travel part of your trip simple.