What are Air Cargo Services?
CSI Aviation's air cargo service encompasses all types of cargo including large loads, transportation of time-sensitive shipments and HAZMAT cargo. Door-to-door service includes loading, unloading and ground transportation to and from the airfield. CSI handles pickup at a warehouse or shipping facility, transportation to and from the airfield to the customer's receiving facility. In addition, CSI can assist with export and import requirements as well as transporting items through customs.
CSI's cargo capabilities service various industries where the shipment of a part or component is urgent CSI has the experience and industry connections to facilitate expedited cargo movements. In addition, cargo aircraft are frequently required for emergency medical equipment and hazardous materials (HAZMAT).
When arranging international cargo movements, CSI can assist with export and import requirements. The company will work with the customer's customs broker throughout the process to ensure that delays are avoided with the cargo shipment. With CSI's 24/7/365 Operational Control Center, real-time customer service is guaranteed.
CSI Air Cargo Specialties:
CSI has a history of cargo shipments using its own aircraft and procuring client-desired aircraft best-suited to specific transports. In addition to airlifting time-sensitive materials and HAZMAT cargo, CSI specializes in:
Auto Part transports, both national and international

International car part transport requires expertise that CSI has with decades of experience in complicated air transport solutions, particularly when it comes to passing through customs.
Transporting auto or car parts across the US requires specific types of aircraft configured to hold uniquely sized material. CSI is an expert at finding the right aircraft auto part shipping by air with its team of connections in the air cargo industry.
Mining crews, materials, and equipment
Oil & gas crews and equipment
Manufacturing industries
AOG aircraft parts
ACMI Air Cargo Services
CSI owns and operates a fleet of Beechcraft 1900s that allow the company to facilitate ACMI (Aircraft, Crew, Maintenance, and Insurance) Cargo flights. This allows us to provide small group air charter with cargo services to a wide range of customers out of any of our bases across the United States.
Our Beechcraft 1900s are equipped to transport small groups with semi-hefty cargo (the kind that's difficult to travel with on a commercial airplane.) The cargo hold can store an absolute maximum of up to 1630 pounds of equipment. However, this does mean we can only transport a limited amount of people at the same time—less than our full 17-seat capacity. Should there only be one passenger accompanying any cargo, the pax must sit in in the first row while weight and balance conditions dictate a maximum cargo load of roughly 1200 pounds. With more passengers seated up forward (3-12 pax), the aft center of gravity is offset, and we can optimally carry 1630 lbs. of cargo.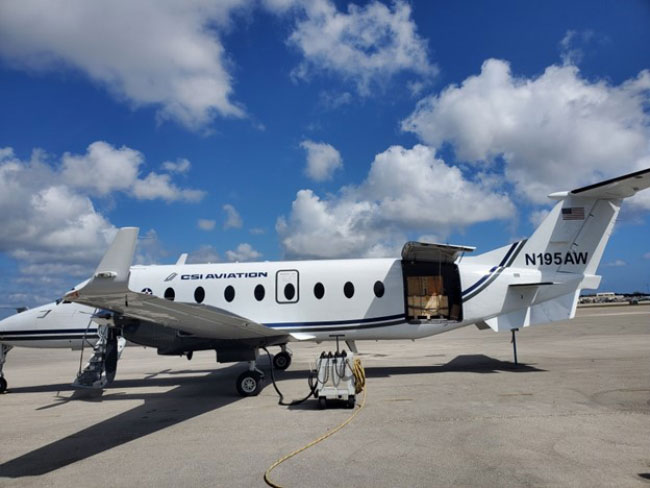 Depending on the CSI Beechcraft 1900 used, cargo hold dimensions range from 185 to 380 cubic feet. With a large cargo hold, the seating capacity within the 1900 lessens as the bulkhead in the back is moved forward, removing the last few rows of seats. It is important to note that CSI only has one 1900s configured with a movable bulkhead. All other passenger seats are bolted into the floor and cannot be moved.
1900 cargo doors are 52" (W) x 57" (H), which is in line with standard commercial warehouse skids. Most jets and other types of aircraft with similar weight carrying capacities do not have a cargo door designed to fit the width of a standard warehouse forklift.

Our cargo hold (and any empty seats) is ideal for carrying multiple tools, small machinery, and various types of equipment. Some small group-cargo transports we've taken in the past include:
Construction Crews
Oil Rig Operators
Medical Personnel
Families with Excess Luggage (strollers, bulky suitcases, etc.)
Hunting Parties (As in, game hunting—guns and gear can be stowed in the back without the usual airport checking hassle)
Fisherman
If you need to move a small group of people, and it would be ideal to skip the hassle of commercial airline restrictions, we offer a solution. Should you need to make large cargo transports, we also have industry resources, experience, and knowledge to get you the exact type of aircraft you need, wherever you need to go.
Air Cargo Transport with Non-CSI Aircraft
Should your air cargo require a larger plane or one with a wider range than one of CSI's own organic aircraft, CSI still has the network in place to procure the airplane you need. With its long history as an aviation program manager, CSI is highly skilled in finding the airframe best suited to its clients. Whether you're shipping auto or car parts, hefty construction equipment, or complicated gear, CSI can find the plane to meet your needs.