CSI Transport Patients:
CSI Aviation's air ambulances are capable of all types of medical transport except neonatal. We can accommodate most stable, non-emergency medical cases. Our scope of practice includes: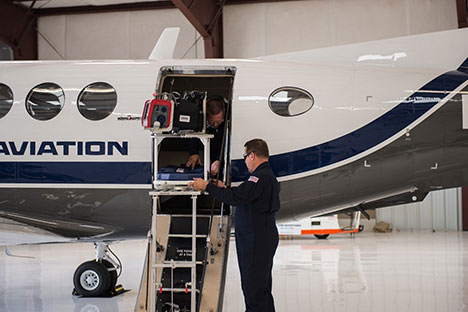 Medical / Surgical
Psychiatric
Cardiac
Rehabilitation
Trauma
Pediatric
High Risk OB
Critical Care
Neurological
Burn Patients
Infants > 28 days / 5kg or > 10kg for ventilated patients. < 28 days for stable feeders / growers on a case by case basis
How is a Patient Transported?
Within 30 minutes of a medical flight call to our dispatch center, we can have plane off the ground. Our flight operations department will coordinate ground ambulance transportation from the sending hospital to the airstrip, and from the airstrip to the receiving hospital.
Once a patient has been picked up, they are loaded onto a stretcher specially designed to fit into an aircraft, called a sled. Our highly trained nurses and medics are cross trained to become certified flight medics and provide optimal patient care throughout the flight.
CSI Aviation never engages in balance billing. To protect our transport patients both medically and financially, we work with insurance companies to provide in-network rates.