What are Executive Charter Jet Services?
Executive jet charter services ensure businesses, corporations, executives, and discerning clientele travel in maximum comfort and efficiency. When time and money are crucial to the success of a business, chartering an executive jet can make all the difference.
CSI Aviation offers executive jet charter services to guarantee your company reaches its destination with ease, efficiency, and comfort.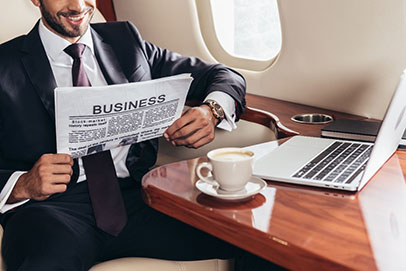 What is an Executive Jet?
A plane or jet in "executive" configuration entails an aircraft with luxury seating, ample table space for dining or working as needed, and top-tier customer service. Referring to an aircraft as an "executive jet" can denote both a style of aircraft interior and the purpose of an aircraft—such as transporting business executives.
Such luxury jets are often booked for executives or utilized for frequently travelling businessmen or companies.
Discover CSI Aviation Executive Charter Flight Services:
CSI Aviation is a unique, global executive charter jet company providing comprehensive aviation management programs and executive charter jet services to corporations, government agencies, athletic teams, and individuals. As a top executive jet aviation company CSI Aviation specializes in providing executive luxury air charter jets that are unrivaled in the industry.
CSI brings integrity and reliability to every mission. A global network of qualified and carefully screened partners enables us to provide comprehensive executive flying services on a moment's notice anywhere in the world.
Why You Should Charter an Executive Jet:
Executive jet charter companies can access airports closer to your destination and travel routes most commercial airlines don't serve.
Chartering an executive jet works easily with tight schedules and avoids airport delays and long lines. Timing is flexible and convenient.
Many executive flights offer onboard Wi-Fi for work or meetings on the go, as needed.
What is Executive Jet Management?
Executive jet management is the coordination of everything related to your chartered private jet. This involves scheduling, dispatch, maintenance needs, and fuel stops. Instead of renting a jet directly from the owner, our top executive jet company focuses on the details of your business' specific flight to guarantee it meets all your needs.
When it comes to management, executive jet services with CSI Aviation allow you to travel in the aircraft of your choosing.
CSI Executive Jet Management Services:
Aviation Management
Air Transportation
Aviation Logistics
Fuel Management

Aircraft Maintenance
Staging & Security
Mission Specific Aircraft
Ground Support
Corporations and government agencies frequently require a certain type of aircraft for a specific task or mission. CSI will provide the desired executive jet aircraft to meet those demands as cost-effectively as possible.
More About Our Executive Charter Services:
In addition to providing executive jet services to corporations, government agencies, athletic teams, commercial groups, and private individuals, we also offer aviation logistics and executive charter jet program management among other amenities. CSI Aviation fills a unique niche in the executive charter jet aviation industry – meeting complex private air charter aviation requirements. Regardless of the scope of work, complexity of schedule or situation, CSI Aviation has proven experience to charter executive jets with exceptional results.
CSI Aviation arranges commercial executive charter jet services using a wide variety of certified air carriers as agents for our customers. As an executive charter jet management company, rather than only an operator of a specific aircraft type, CSI is not limited to just one type of executive jet service. CSI aviation also provides air charter jet aircraft leasing and maintenance support. Our executive charter jet services company has extraordinary flexibility and no geographic restrictions with either executive charter jet aircraft aviation logistical support or executive jet program management.
CSI has numerous federal Government Contracts for executive charter jet services including executive charter flights, aircraft leasing, aircraft purchase and aircraft support services including maintenance, standby aircraft, and aircraft management. Our executive charter jet services company has various service contracts in place with numerous agencies at any given time.
CSI Aviation also has a GSA Schedule for Executive Charter Jet Services and Aircraft Leasing. The GSA schedule of our executive charter jet services company offers the government the ability to use a convenient contracting tool for a full range of private executive charter flight aircraft using certified air carriers.
Our Safety Record:
Safety is always our priority. We confirm the cleaning and maintenance procedures of every aircraft booked for executive jet services. CSI Aviation will never send you on an executive flight that hasn't met our own high standards of safety as an ARG/US gold-rated company.